Rebar Taper Thread Cutting Machine
Introduction:
Aleono Rebar Taper Thread Cutting Machine can be used to process the HRB335/400 rebar with the diameter of 16mm to 40mm. The mechanical property of the joint obtained can meet the requirements of American standard ACI318-89, ACI359-86, and ACI349-89, British standard BS8110-97, as well as German standard DIN1045. According to requirements of Chinese standard JGJ107-96 and JGJ109-96, the joint property reaches A-level.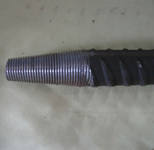 Principle:
Use the rebar taper threading machine to make taper threads on the ends of the two rebars to be connected. Then, connect the rebars with a taper threaded sleeve.
Advantages:
1. This rebar taper threading machine works properly and yields satisfactory result without being subjected to the chemical composition of rebar, human factor, electricity and other factors.
2. Producing no pollution while working, this rebar thread rolling machine meets the requirement on environmental protection.
3. With no open flame during operation, the rebar taper threading machine works safely and reliably.
4. Owing to high degree of automation, our rebar processing equipment is easy to operate and the processing speed is fast.
5. The taper-threaded coupler can be prepared on or off site.
6. This rebar machine is highly adaptable to various environmental conditions, such as wind, rain, snow, high altitude, etc.
7. Apart from easy and quick installation, the rebar processing equipment also saves energy and materials.
Aleono Rebar Taper Thread Cutting Machine Parameters