Aleono's core business is providing rebar splicing solutions and safety rebar splicing products for the projects of high buildings, tower, tunnel, subway, bridge, nuclear power station and other construction projects. Aleono can offer a broad range of both standard and specialized rebar splicing products, include rebar splicing couplers and rebar splicing machines.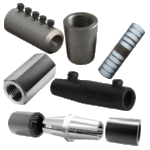 Aleono rebar splicing couplers include Rolling Parallel Thread Rebar Coupler Series, Upsetting Parallel Thread Rebar Coupler Series, Taper Thread Rebar Coupler Series, Bar Lock Rebar Coupler Series, Taper Sleeve Locking Rebar Coupler Series, Cold Stamping Rebar Coupler Series, Grouting Rebar Coupler Series, Weldable Rebar Coupler Series and other series. Any kind of material can be developed and supplied exactly as per customer's specifications, design and requirements. OEM & ODM order is welcome.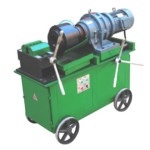 Aleono rebar splicing machines include rebar tying machine, rebar welding machine, rebar parallel thread rolling machine, rebar upsetting machine, rebar parallel threading machine, rebar taper threading machine and more. We also offer many additional convenient services, such as customizing mark on rebar coupler or customizing machine color for your business, that will surely distinguish you with others. also, you can have peace of mind knowing that, Aleono guarantees our machine products and workmanship for up to a full year.
Aleono can prepare everything to your specifications all to be delivered timely and reliably, If you are interested in any of our products, or wish to place a customized order, please do not hesitate to contact us. We will do our best to meet your needs. We strive to provide the best pricing, quality and fastest service for you!